What makes London so special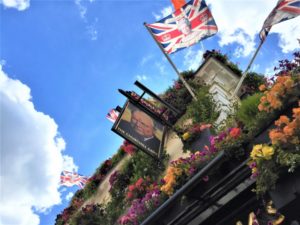 You will have noticed by now that London holds a special place in my heart. Even more: London is my absolute favorite city. My last visit on the occasion of my 30th birthday was only four and a half months ago, but it seems a lot longer to me.
The list of things I would like to see on my next trip to the English capital is already long. And it is growing continuously. You might be asking yourself: What can you find so great about London that you want to go back over and over again? There are tons of reasons to lose your heart in London. I would like to tell you the 11 most important reasons why I like London so much.
Why I love London: soccer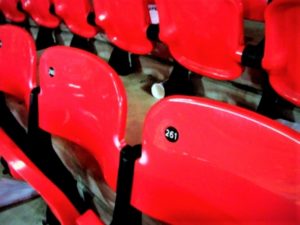 I'm a big football fan and there is probably no other city in which there are so many professional football clubs in such a small area as in London. In fact, it was football that only brought me to London in the first place. I am a sports journalist and have also worked as an editor for a well-known club in the Bundesliga for a long time. And if you're crazy about football, you just can't get past London.
Attending a soccer game was ultimately the reason for my first trip to London. At that time I watched an international match at Wembley Stadium. I was still in training at the time and tickets for international matches are much cheaper in England than tickets for the Premier League. So on one of my next trips I would like to visit a Premier League game or at least see the stadiums of Chelsea or Arsenal.
Why I love London: museums
Actually, I don't really like museums that much. No, I have to put it differently. Before my first visit to London, I wasn't particularly fond of museums. But then I entered the National Gallery in Trafalgar Square and was absolutely thrilled. The British Museum, the Natural History Museum and the Science Museum are also great and I could stroll through the hallways forever and look at the exhibitions. As always in life, exceptions confirm the rule when it comes to this subject. Not all museums in London have convinced me so far. For example, I was a little disappointed with the Tate of Modern Art, but that's always a matter of taste.
By the way, museums are also a good place if you want to experience something in London, but your budget is limited: entry to most museums in London is free.
I'll tell you more about my visit to the Natural History Museum in this blog post.
Why I love London: musicals
I love musicals, I just think "cats" are terrible. It goes without saying that I feel totally at home in London's West End. Almost nowhere in the world do you have such a large selection of shows. And not only that. Admission is usually much cheaper than in Germany. I would not have expected that before my first trip to London, because otherwise London is not that cheap.
On my first visit to London, I watched "Let it be!" (A Beatles musical). I was thrilled: the theater was great, the show itself convinced me and because the musical wasn't sold out that evening, I got a free upgrade and ended up sitting in a seat that would normally have been much more expensive. In Germany, people would still be left sitting in the last corner, even if everything was free in the front. I'm sure.
Since then, almost no trip to London has gone by without a visit to the show. For example, I've seen the "Phantom of the Opera" several times in London and I'm thrilled every time.
You are not that convinced of musicals yet? In this blog post I'll tell you why you absolutely have to go to a musical in London.
Why I love London: The Royals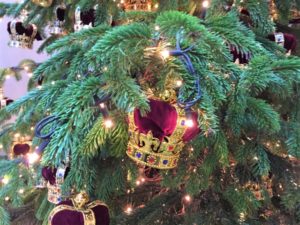 For me, London naturally also includes the royal family. When I first set foot in the English capital, I brought my suitcase to the hotel and immediately walked to Buckingham Palace to watch the changing of the guard. I didn't see that much because of my small size and the crowds, but I was still impressed.
On my 30th birthday, I treated myself to a visit to Buckingham Palace. But the Royal Mews, where you can see the royal carriages, and the Queens Gallery are also worthwhile and are neither overcrowded nor expensive. On one of my upcoming visits I would like to take a closer look at Kensington Palace.
I'll tell you everything about my visit to Buckingham Palace in this blog post.
Why I Love London: Movie Locations and Music History
I know the Beatles were from Liverpool, but when I think of the mushroom caps the first thing that comes to mind is the zebra crossing in front of Abbey Road Studios. I've already visited it several times: it was a must at my London premiere and when I dragged my father, who is a big Beatles fan, to London, we naturally crossed the world's most famous zebra crossing.
In this blog post you can find out which free sights around the Beatles you can see in London.
But of course there are also a lot of film locations in London, so don't be surprised if the area suddenly seems very familiar to you on some strolls in London. For example, I love the "Sherlock" series and the "Bridget Jones" films and have already discovered some of the film locations.
Why I love London: markets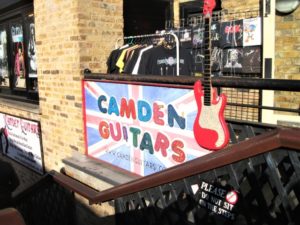 I love markets and that's why London is the perfect city for me. Because London has a lot of wonderful markets. I am absolutely thrilled with Portobello Market in Notting Hill. This picturesque district with the pastel-colored houses alone is worth seeing.
I have also taken Camden Market into my heart a long time ago and could spend hours there, because I have already discovered numerous curiosities there.
I had heard good things about Borough Market before my visit, but I was a little disappointed. In the end, it was much smaller and more expensive than expected. Greenwich Market is nice, but also a lot smaller than I imagined. On one of my next visits, I really want to see Columbia Road Flower Market and Brick Lane Market.
Why I love London: Shopping
Those who like to go shopping will also love London. It actually took until my third trip to London before I could incorporate a full day of shopping into my travel plans. Before that, I was just too fascinated by the many sights.
In London there is nothing that does not exist: Bambi shoes, Christmas tree balls in lipstick shape, guinea pig egg cups. The luxury department store Harrods should be seen by every shopping fan. I especially like the Liberty store on Regent Street. Incidentally, I also spotted the guinea pig egg cups mentioned there. So, if someone needs a strange souvenir ...
Why I love London: Different parts of the city
London is the most diverse city I know. When you drive to another part of the city, you sometimes get the impression that you are in a completely different world. I really like these different areas.
I am particularly enthusiastic about the maritime Greenwich, the colorful Notting Hill, the chic Westminster and the cool Camden. Unfortunately, I've never been to the East End, but I really want to go. Alone because of all the street art.
In this blog post, I'll tell you 10 reasons why you should visit Greenwich.
Why I love London: parks and water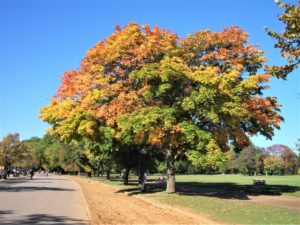 London is not only hectic and crowded, but also incredibly green. Hyde Park is a must on your trip to London. It is a small oasis of calm in the middle of the city and a popular picnic spot.
After visiting Buckingham Palace, I definitely recommend a stroll through St. James's Park. I especially like to watch the many trusting squirrels there. To switch off, I also like to get on the boat and sail across the Thames or the Regent's Canal.
Why I love London: Great people
If I had to describe Londoners (and probably also English people in general) to myself three words, it would be these: polite, helpful and humorous. I like that in London you always stand in line when the bus comes. The crowd is exclusively from tourists.
I've also seen a lot of helpfulness in London. Last May I booked a hotel room in Canary Wharf. Usually not that many tourists get lost in the business district. On the first evening I took a little walk to get to know the area around the hotel and to see where buses and tubes leave. I was standing at a bus stop for maybe two minutes, studying the timetable, when a Londoner in a fancy suit came by and asked if he could help me. He explained to me that the bus stop would not be used regularly due to a construction site and did not want me to have to wait unnecessarily. This is just one example of the many good experiences I have had in London so far.
Why I love London: sights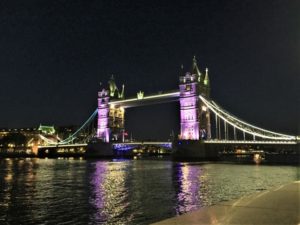 A Ruhrpottler would say to you now: "Come on, go' me switch to the usual tourist chatter ". The classic sights belong to London and I love them too.
Everyone knows Tower Bridge, but hardly anyone visits the interior. I took a closer look at them on my second trip to London. The exhibition is wonderfully done and worth it. All explanations can even be found in German, and there are many playful explanations for children.
I have also seen the inside of the Houses of Parliament. Unfortunately, photography was not allowed, but I will never forget the visit. In contrast, I've never been to the London Eye. So far, the price of admission has always spoiled my desire for it. But one day I'll watch that too.
Now it's your turn: have you ever been to London? How did you like it? What did you look at. Have you lost your heart to the English capital too? Then tell me why you like the metropolis.
More ideas for your time in London include:
Would you like more information about London? This travel guide * delivers them to you.
Do you fancy London?Get more inspiration here. *
Are you looking for a hotel in London?You are sure to find what you are looking for here. * You can find tips for finding a hotel here.
* = Affiliate link / advertising: If you buy something via these links, I get a small commission. You do not have any disadvantages and there are no additional costs for you. I only recommend products that I am convinced of myself.