What is the most widely used mobile app
de.phhsnews.com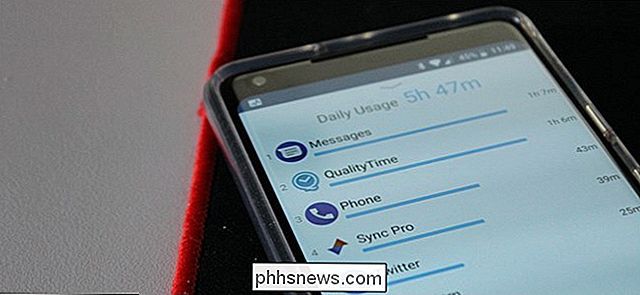 Have you ever wondered which apps are consuming the most time? Sure, you can assume what you use the most, but seeing exactly what you use (and how often) can be pretty informative. Best of all, finding this information is as easy as installing an app from the Play Store.
To keep track of app usage, we'll use an app called Quality Time. It's a simple app that is easy to use, has a lot of useful information in an intuitive interface - and it's free too. You really can't ask for more.
Setting up and using the quality time
To get started, install Quality Time and set up an account. You can log in with Facebook if you want, otherwise just set up a new account.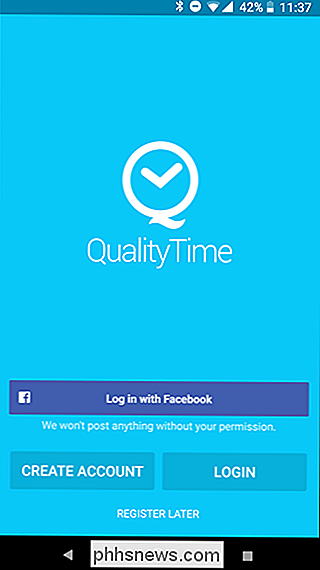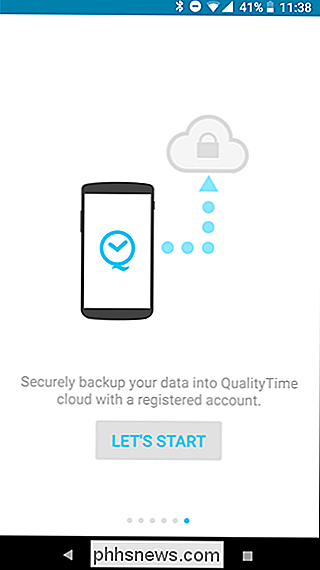 As soon as you are logged in, you have to grant the app Quality Time access. Tap the "Allow" button, then tap "Quality Time" and switch Usage Access to On. This way, Quality Time can keep track of your usage patterns. Without this setting, the app cannot do what it is designed to do.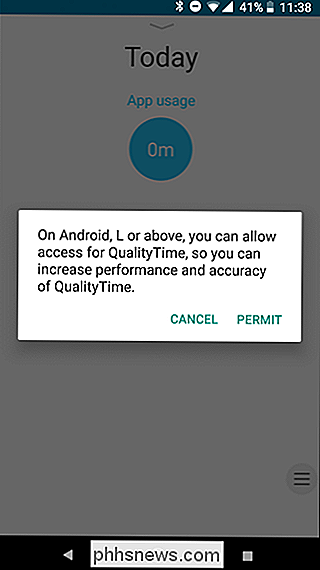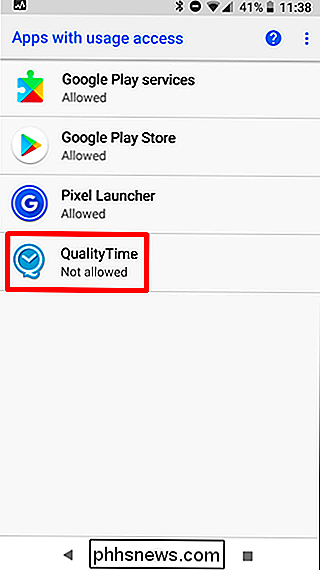 From then on, Quality Time starts tracking your usage. It can't see any of this before the app is installed (or before usage access is granted if you have it installed and not set up), so you're starting with a blank sheet of paper.
However, if you use your phone from now on, Quality Time will track your behavior. This includes how much time you spend in all of your apps, how often you've opened those apps, and how often you've unlocked the screen. It records this information daily and weekly so it is very useful on a longer timeline.
The layout is a little different from what you're used to in most Android apps, but once you understand how it works, it makes Quality Time very efficient at what it does. The app will open to the Today screen, which shows all of your activities for the current day in a beautiful timeline format.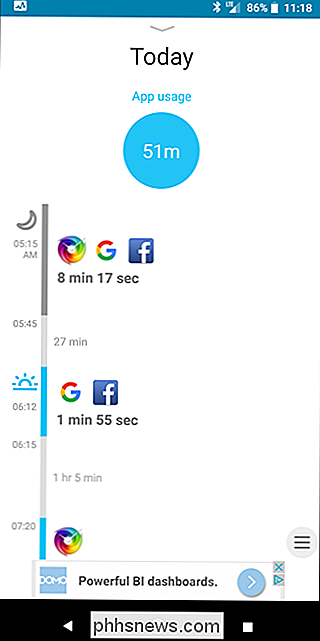 The breakdown here is pretty simple: tracking starts every day the first time you open your phone - so generally when the alarm goes off. The app stores usage in clusters as most of us don't turn off the display before starting each new app, but also the idle time. For a breakdown by the minute, tap on one of these clusters.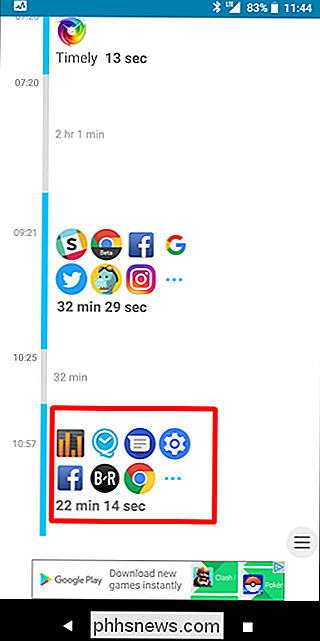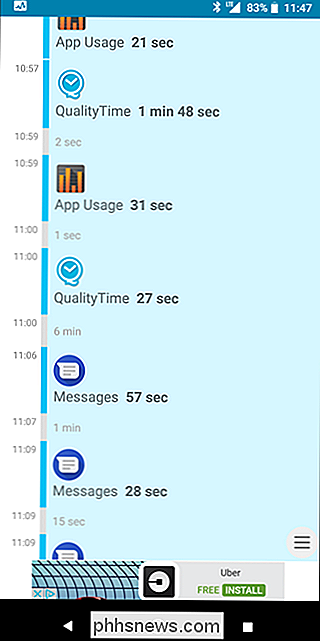 For a better overall view of your day, swipe down from the Today screen. This will take you from the Today view to the Daily Usage view, where you can quickly see which apps have started most often and how much time you've spent on each one. In addition, you can swipe left to cycle through various pieces of information about your app activity, such as: B. How many times you've opened each app and unlocked your phone. You can also flip through days using the section below.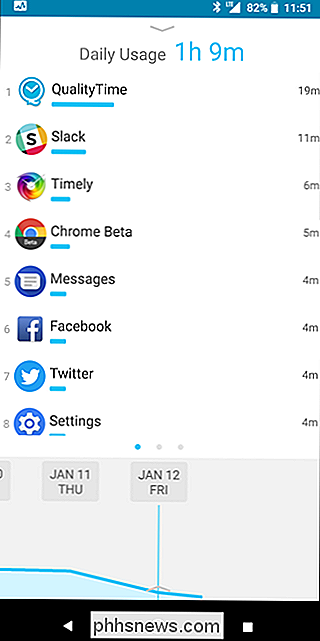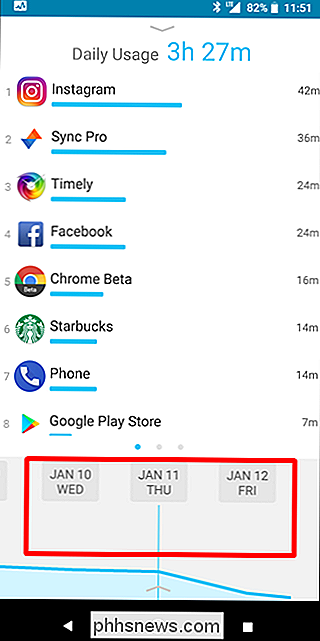 If you swipe down from Daily Usage on the screen, you will see the Weekly Usage View. This shows your collective usage for the week where you can swipe through the frequencies again and unlock in the top half, as well as different weeks below.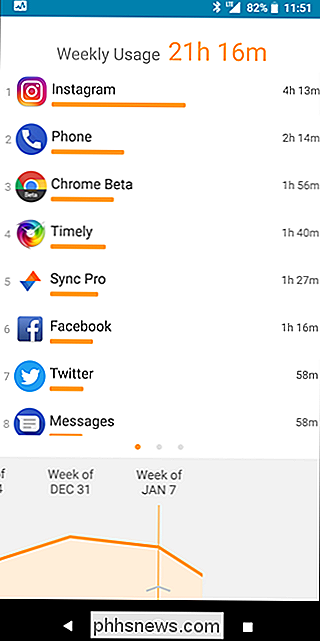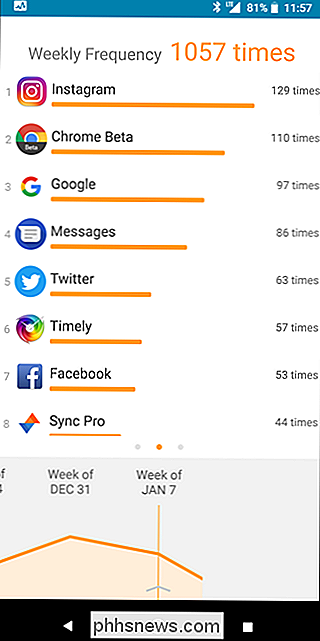 Tap on a single app in the day or week view, the details for that app only. In this view, you can swipe left across a screen to see how often you've opened the app. I think this is information that should really only be displayed on the same screen, but it doesn't matter. Again, you can swipe through the days below.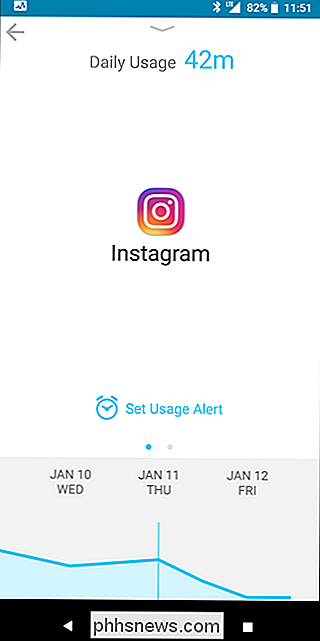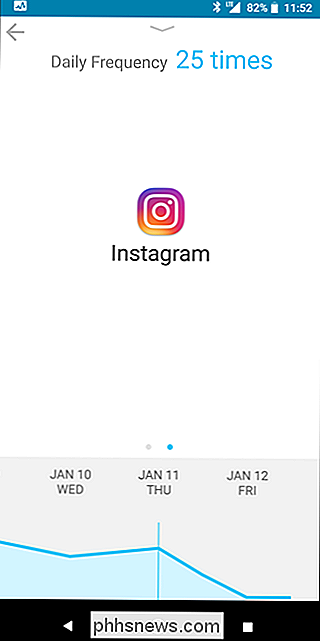 You can also tap the day itself on the Daily Usage page to view a usage graph. That's a pretty cool thing when you are most actively using your phone. Note that the app usage graph doesn't change here, just the line graph below.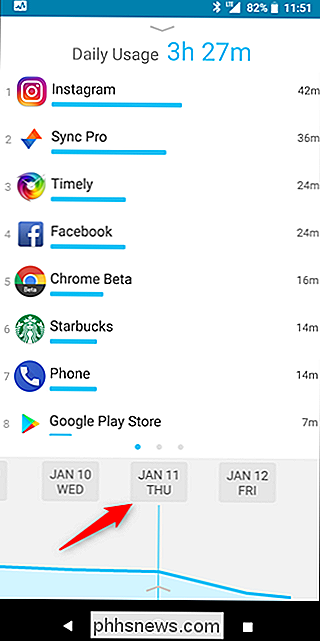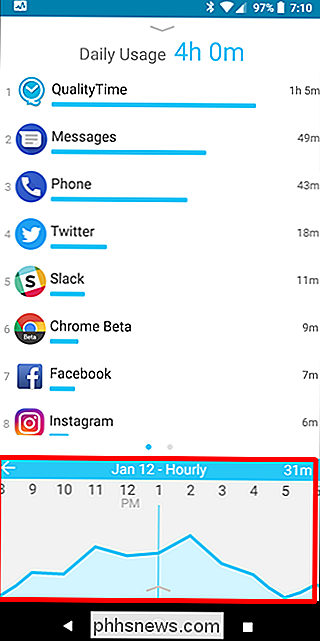 Additional features of quality time
That's all about Quality Time's primary interface - it's very simple. However, it has a few extra features under its sleeve, like a nifty "pause" feature that "forces" you to put your phone on for a while.
To use this feature, scroll all the way down to the bottom "Page" - the Today View - and tap the three lines below to open the menu. From there, tap "Take a break", which will prompt you to set up a quality time profile.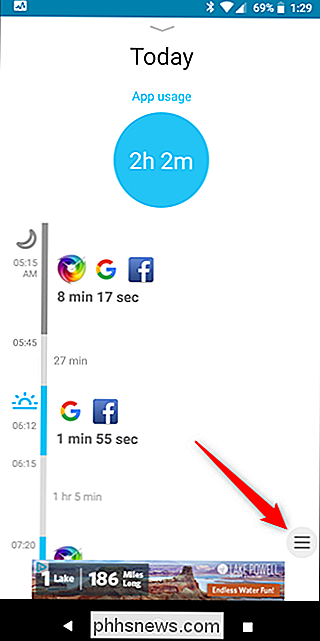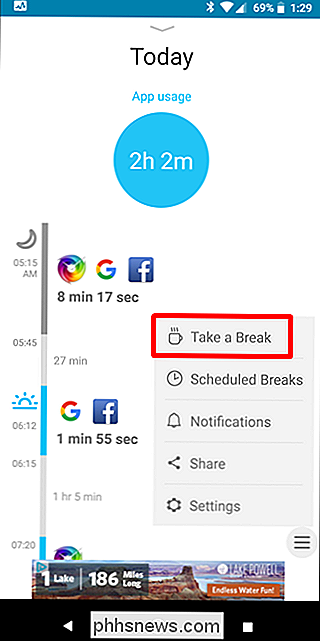 You'll need to give your profile a name to launch and then choose how much of a break to take by choosing to block notifications and / or calls. You can also allow certain apps to bypass the interruption.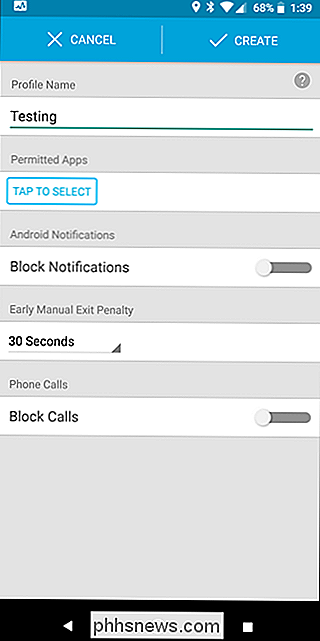 NOTE: If you want to block notifications, you must give access to the Quality Time notification. If you want to block calls, you need to allow the app to access the dialer. You will be presented with both options when you try to activate one of the features.
Finally, you need to define an "Early Manual Exit Penalty", which is a kind of cooldown timer that does not allow you to use your phone to end your "break" early. Quality Time is really serious about actually turning your phone off folks.
Once you've set your specific parameters, tap the "Create" button at the top.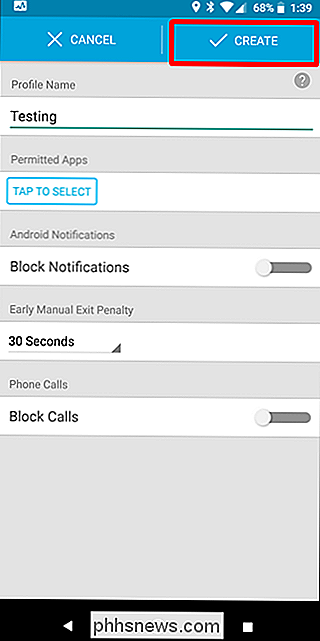 NOTE: Once you have created a profile, it cannot be deleted without first creating a second profile. In other words, once a profile is created, there is always a need to keep one.
Open the menu on your profile and tap on "Take a break" to use this function. A new screen will appear asking how long you want the break to be (and which profile if you have more than one). Once set, just tap the "Start" button to begin your break.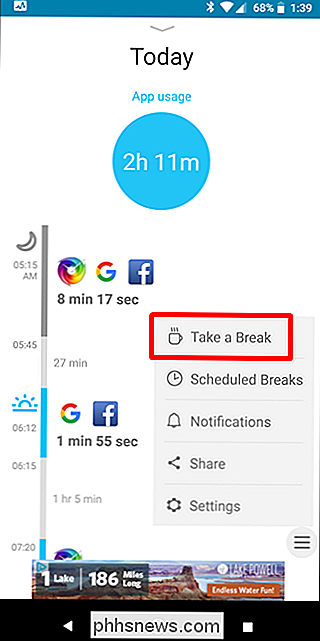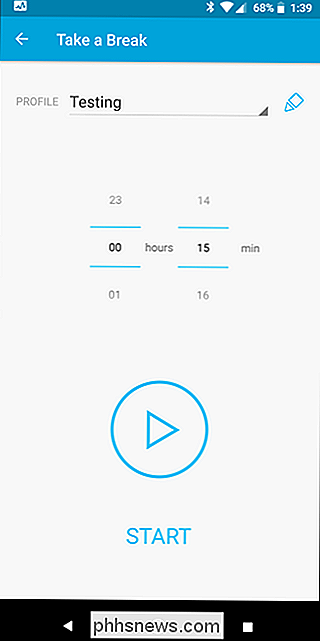 At this point, your phone is borderline useless. You can still press the home button to get to the home screen, but that's it - whenever you try to launch an app, Quality Time takes over and launches the "Break" screen. Unless otherwise noted, the only app that can bypass this screen is the dialer. Intensive.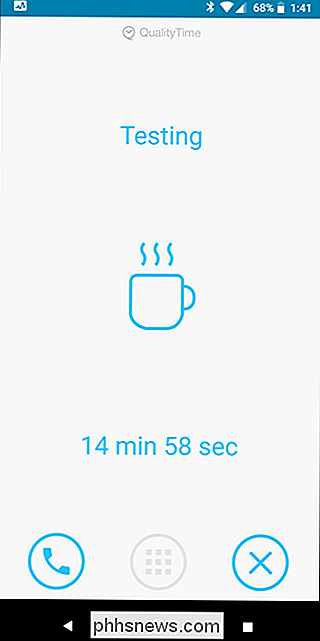 However, you can end your break early by tapping the X in the lower right corner. However, you will have to wait for the "Early Manual Exit Penalty" set earlier, keep that in mind. And once it's over, you'll force an ad too. Yuck.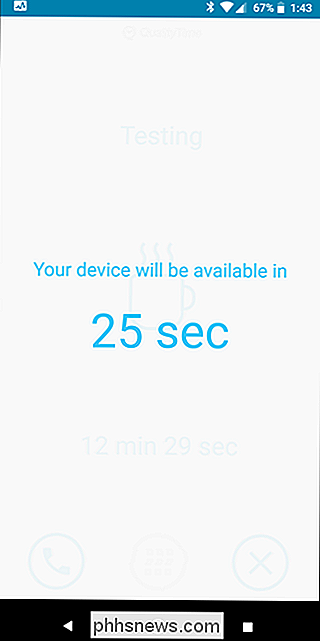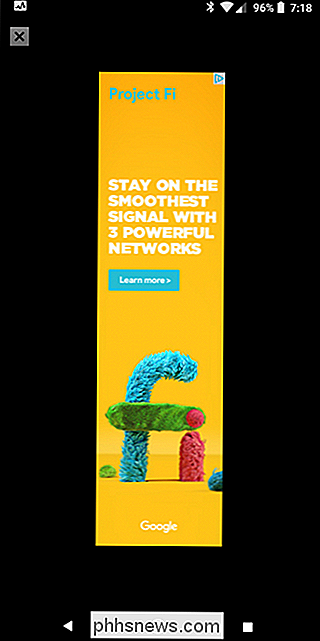 RELATED: How to automate your favorite apps with IFTTT
Otherwise, there are a few other things hidden in the Quality Time Settings menu, such as alarm specifications for use, unlocks, and even certain apps; IFTTT integration and a Daily Recap notification (which is enabled by default).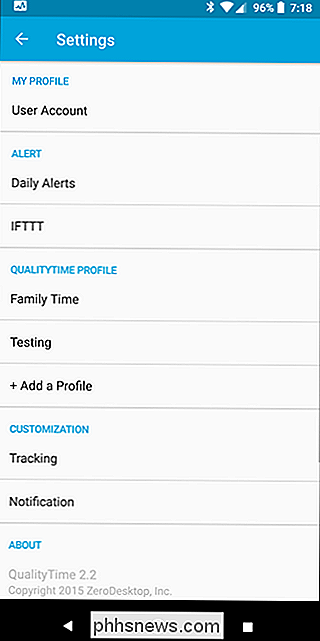 There is also an option to block certain apps from being tracked under Settings> Tracking. I left out my alarm app, Timely, because I don't need to see how long I have it alarmed before I sleep ... three or four times. Every day. Seriously.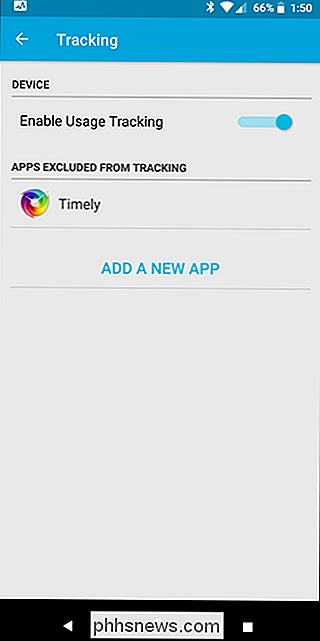 ---
Overall, Quality Time is a nice app that lets you see how much you're using your phone quickly. Seriously, it's a lot. Too much. Put it down.
Of course, it's not the only app that does that - there is App Usage too - but I found Quality Time a bit more intuitive and offers a bit more information than App Usage. Still, they're both excellent apps, and if Quality Time isn't doing it for you, give App Usage a try.
---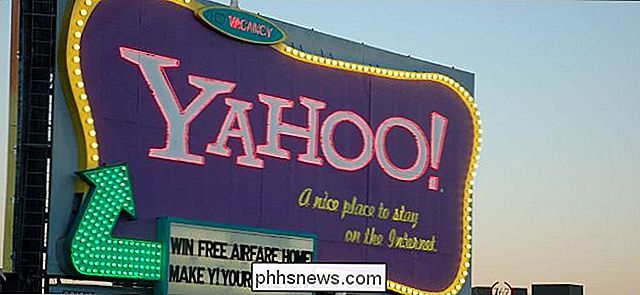 How to delete your Yahoo Mail account
As Yahoo suffers a massive data breach and sells itself to Verizon, you may want to delete the old Yahoo account. If you still have important data in your account, you can download a lot of it before deleting it as well. First: Download your Yahoo email and other data Delete your Yahoo account, and Yahoo will delete all of its data with it, including your Yahoo email, contacts, and calendar events.
(how-top)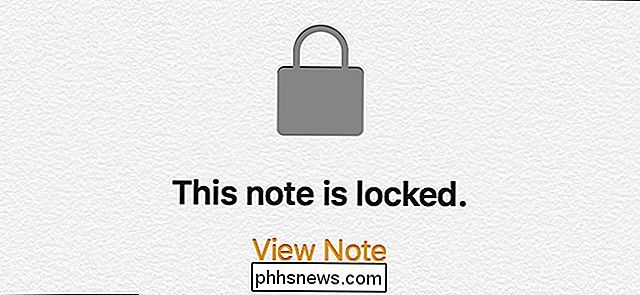 Tips for protecting notes on iPhone
If you want to write down sensitive information in the Notes app on your iPhone or iPad, you should protect it with a password. How to Enable the Feature in iOS 11. RELATED: What's New in iOS 11 for iPhone and iPad, Available Now Granted, your device is likely already password-locked.
(how-top)